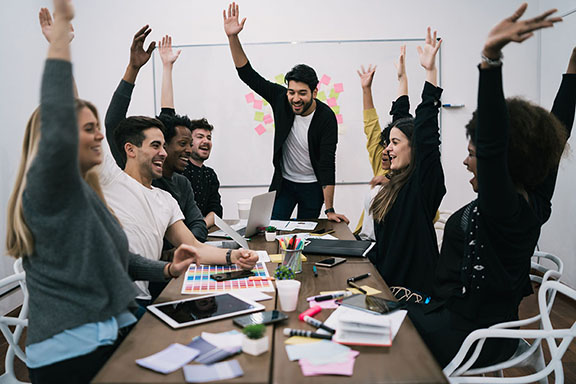 3 Ways Your Inner Circle Contributes to Your Success
3 Ways Your Inner Circle Contributes to Your Success
In my last blog post, I emphasized the importance of mindset in creating the foundation of your business. Once you begin building that foundation, you'll need to be sure you can support it. It can be difficult to achieve success in this world when you go it alone. You need people in your inner circle who can help guide, coach, and support you.
If the people you're surrounding yourself with right now don't seem invested in your success, and if you're not invested in theirs, you should pull back from that relationship and make room for like-minded people. Choosing to keep people who are positive, hold you accountable, and challenge you is of critical importance. Success in life often requires us to change ourselves in different ways.
Those we choose to surround ourselves with will either hold us back or inspire us to greatness. When the people who surround you are successful and care about your success, you'll be able to stand on a solid foundation from which your road to success will be much smoother and more solid.
Achieving success is an impossible feat without help, guidance, coaching, and support from others. It is why surrounding yourself with people that make you better, that embody positivity, that hold you accountable, that challenge, support, and encourage you, is of critical importance. The strength of your foundation, and in turn, opportunities for your success will directly correlate with the types of people you choose to keep by your side. For it is the people closest to us who not only have the most significant impact on our lives but also give us purpose. They have the power to inspire us to pursue our dreams and passions and help forge the mindset that will be the foundation for everything we do. The people closest to us can either hold us back or inspire us to greatness.
They'll Provide Constructive Criticism
Criticism isn't something many people take easily, but when you surround yourself with the right kind of people, their criticism should be constructive. Framing criticism in a constructive way isn't easy, and if the people closest to you seem more like they're putting you down than helping to lift you up, you'll want to get rid of the negative people and replace them with those who will drive you to succeed.
They'll Bring Out the Best in You
When you surround yourself with achievers, they won't let you fall behind on your own goals. They'll provide you with encouragement, support, and different ideas on how you can approach and destroy your barriers to success. It's inspiring and motivating when you're surrounded by achievers who want you to succeed as opposed to losers who want to drag you down to their level and keep you there.
They Can Connect You with Others
Meeting other people can help you move forward with your goals. You want people in your inner circle who, once they get to know you, will enthusiastically connect you with other people who can help you along. Maybe it's a mentor who has already trod the path you're on, or it could be someone who's interested in the product or service you provide. Either way, having people in your inner circle who enthusiastically connect you with others is crucial to your continued success.

 Author and businessman, Tony Velasco, teaches the principles by which he built a multimillion-dollar business enterprise in his 20s. He lives in Valencia, CA with his wife, Allison. Tony believes that the prospect of losing is a part of growth, and greater than failure we should fear regret, in all things, at all costs.
His soon-to-be-released book, F**K Regret offers a step-by-step description of how the author executes every aspect of his daily life, how he was able to sustain the shutdown of gyms and other businesses during the COVID-19 pandemic, and how he is rebuilding. Follow him on Instagram and at https://tonyvelasco.com